Discover more from The White Pill
excellent developments in technology, engineering, physics, space, and more
Over 27,000 subscribers
The Possibility of a Warp Drive Narrows
white pill #26 // new CERN science on antimatter has implications for warp drives, a significant development in ai, an absolutely beautiful short film about space hotels, and more
Readers it's the 26th issue of the the White Pill, which means it's this newsletter's six-month anniversary. A LOT of good stuff in this issue: we get detailed about warp drives in our space section, open the LLM black box in our engineering and computing section, show one reason why Neuralink implants won't need a tangle of wires sticking out of wearers' heads in the medicine section, and have some good old fun stuff for you at the end.
One thing, before getting to the issue. Last week's Investment Index included an item about Varda Space Industries that we sourced from Pitchbook. Per Varda, the information Pitchbook published is completely inaccurate, so we removed the item. But since we couldn't unsend the email that went out with the inaccurate information, we're issuing the retraction here, in addition to the retraction we issued on X last Saturday.
Unfortunately this kerfuffle made us doubt anything we've ever sourced from Pitchbook, which is to say 99% of the deals we've ever included in the Investment Index. 😬 Therefore, we are working on a new process that ensures that each deal we put in the index is accurate. Unfortunately, this means that the Index is on a brief hiatus — but it will return soon.
Onward.
---
SAN FRANCISCO READERS: Solana and the Pirate Wires crew invite you to drink with us at
Zeitgeist
on
Thursday, October 12 at 5:30 PM
. Be there (or die).
Note: the first time we sent an email about this event, we said it was happening on Friday the 13th. That was incorrect. It's happening on Thursday the 12th.
---
Space
The possibility of a warp drive. Broadly, the hypothetical warp drive works not by propelling the craft at faster than light (FTL) speeds, but by contracting the space in front of it and extending, or rarefying, the space behind it, which results in FTL travel. Imagine kneeling on a rug and reaching to pull the end of it to where your knees are, making the rug bunch up in a wave-like pattern. You've decreased the distance between you and the end of the rug without moving your body toward it. Imagine also that you are able to increase the space between each thread in the part of the rug that's behind you, causing the distance between you and the end of the rug to increase, while your location still is the same. You are now closer to the front of the rug and farther from the end of the rug, while again, never having moved toward the front or away from the end.
FTL travel is, as far as we know, necessary for human travel across many interstellar distances that we would want to traverse. Without it, travel just takes too long. One of the closest systems with an exoplanet in the goldilocks zone — a planet we might want to colonize — is Proxima Centauri b. It's 4.24 light years away from us, which sounds close, but isn't. Even one of the fastest manmade objects, the space probe Voyager 2, would take 75,000 years to get there at its top speed.
Physicist Miguel Alcubierre worked out the physics behind the warp drive in 1994. But his solution required "something that anti-gravitated: something like 'negative energy' or 'negative mass.'" That's because "all of the particles and fields known to exist, even in theory, only have one type of mass/energy: the positive type, and hence they all curve spacetime the same way." But the warp drive can only work if you can curve spacetime in two different ways, because again, in front of you, space should be contracted, behind you, space should be extended.
Reader, if you're still with me, I'm sorry to inform you that the payoff for all this reading you've been doing — you might not like it. It's long been hoped that antimatter could be a source for this "negative mass," and without getting technical, a recent experiment at CERN showed that antimatter doesn't anti-gravitate. "With that, humanity's best hope for achieving warp drive has just died." Bummer.
Regardless, you should read the entire explainer at Big Think.
Mission to Psyche. NASA's Psyche asteroid mission is set to launch next Thursday, October 12th. It will go into orbit around Psyche in August 2029. Psyche is a large asteroid, 173 miles (278 km) by 144 miles (231 km), located in the main asteroid belt between Mars and Jupiter. What's interesting about it is it's thought to be made mostly of metal — part of the exposed core of a long smashed planetesimal, the building blocks of protoplanets. Apart from the scientific curiosity (we could learn a lot about how the cores of Earth and other rocky planets are formed) there is an obvious component of economic interest here, as Psyche could be a valuable target for future asteroid mining operations. (Space.com)
More: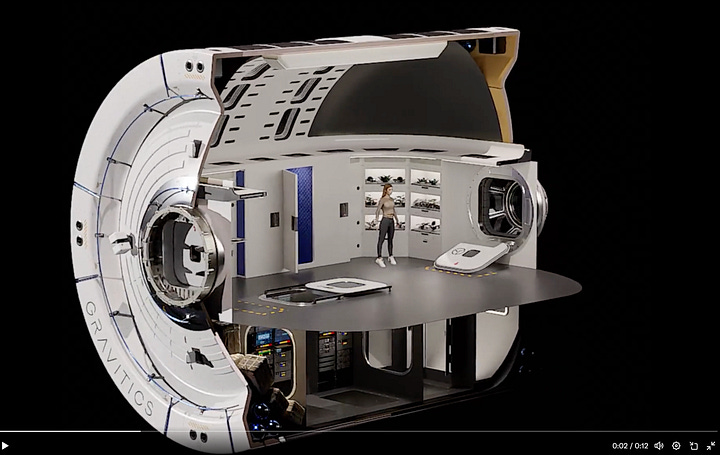 ---
The White Pill is on
X/Twitter
. Follow us for excellent developments in tech, science, space, and medicine, and bonus content that doesn't make it into the weekly newsletter.
---
Engineering, Computing
Opening the LLM black box. The AI company Anthropic, most recently in the news for inking an investment deal with Amazon worth $4 billion, says that it has made a significant step toward illuminating the black box that conceals our current understanding of how LLMs like GPT work. Their announcement is technical so read it if you dare, but — roughly — up until now, our understanding of individual neurons, LLMs' fundamental computational units, has been quite limited. While some specific neurons have been identified with certain functions (like detecting negative sentiment), most remain a mystery. But now, Anthropic claims to have a method to group neurons together such that it can derive interpretable features. In other words, we were using trial-and-error to put together a puzzle whose pieces had no distinguishing features except for shape; today, we've discovered some puzzle piece features that allow us to rely less on trial-and-error for putting the puzzle together.
Why do you care? AI doomerism, a pessimistic position on AI that assumes AGI is, categorically, an existential threat to humanity, is the driving force behind many influential people's and organizations' attitudes toward AI. It compels them to call for bans of AI research, or for the government to strictly regulate it, in an FDA-like manner. It isn't out of the question that their calls will be heard, and their efforts will ultimately be successful. For example, under pressure from Christian conservatives in 2001, President George W. Bush announced federal funding could not be used on embryonic stem cell research, and this restriction lasted until 2009, robbing us1 of nearly a decade of science that has, in the years since, given us advanced treatments for blood disorders, cancers, skin grafts, and corneal diseases, to name a tiny fraction.
Assuming what they're claiming isn't just good marketing, and they've actually achieved this technical breakthrough, Anthropic's new understanding of how LLMs work represents a step in the direction of controlling AI, therefore potentially helping us prevent the hypothetical rogue AGI that turns us all into a gray protein paste or whatever (if that is something that will happen). By understanding how the AI thinks, we can trust its decisions more. There's more potential to this development. Once we understand something, we can often improve it. If we get why certain parts of the AI make mistakes, we can potentially fix those parts. And as we deploy AI in more critical areas (like healthcare, transportation, or finance), understanding their decision-making process is vital to ensure they don't make harmful mistakes.
(Thank you to Founders Fund's John Luttig for helping me parse this news.)
More:
---
Medicine
---
Finally, the fun stuff
---
---
Touch grass this weekend.
(Also, do you know someone who's a great writer who would want to work for Pirate Wires? Who should we interview? What should we write more about? Please get in touch if you're interested in discussing.)
-Brandon Gorrell
1
This is a little hyperbolic — private funding could still be provided to embryonic stem cell research