Discover more from The White Pill
excellent developments in technology, engineering, physics, space, and more
Over 27,000 subscribers
Oppenheimer
white pill #16 // solana reviews oppenheimer, the unbelievable possibility of a room-temperature superconductor, explody comets, apple's latest patent application, and beyond
Hey reader, I'm happy to be back here in your inbox with a thrilling edition of the White Pill, Pirate Wires' weekly newsletter about the most fascinating stuff going on in space, science, engineering, energy, medicine and tech.
This issue is banger after banger. First and foremost, Solana has deigned to grace the Pill with his presence by providing a brief review of Nolan's Oppenheimer — be sure to watch the most recent episode of the pod where he discusses the film with friends Kmele Foster and Trae Stephens. Then in our Space section, we have NASA and DARPA accelerating plans for in-space nuclear propulsion, a new Einstein Cross (read to find out), and more. Of course, you know we discuss the Superconductivity Question that has X/Twitter abuzz this week in our Engineering, Energy, and Computing section — was there ever any doubt? — as well as a new Apple patent application, among other items. In our section on Medicine, progress on cancer, eyesight, blindness, and more, and in Fun Stuff, a video of a volcano destroying itself, a new map of a Grand Canyon-sized underwater canyon off the coast of California, a stunning AI-powered MoMA exhibit, and more.
Enjoy the issue!! And see you back here next week.
---
First, Oppenheimer
Let's talk about nukes. There was a general hope among technologists that Oppenheimer might do for hard tech what The Social Network did for the consumer internet, or what Wall Street did for investment banking. Hollywood has a long tradition of producing films that inadvertently make a group of people despised by the media seem cool, in turn catalyzing a wave of young workers to some forbidden industry, and benefiting the country. But the atom bomb was always a very different subject than Facebook or trading, understandably difficult to sit with, and deeply controversial. Long story short, Christopher Nolan's latest work paints a vivid picture of the bomb's development, but loses itself — as too often does America — in focus on what the bomb 'means,' rather than how it was developed.
This week, for the Pirate Wires pod, I talked about the film with Trae Stephens (Partner at Founders Fund, co-founder of Anduril), and Kmele Foster (host of the Fifth Column, head of content for Founders Fund).
Topics including: the art of Christopher Nolan, a thirst for glory and assumption of accountability (with intersections here in state and local politics), the great man theory (controversial (among the self-loathing)), a navigation of America's evergreen "are we evil" discourse, and… thank God for the atom bomb (?).
While we're on the subject of meaning rather than action, I do at least find this last question interesting. There's a general sense among Americans that dropping the bomb was an unambiguous horror. But most reasonable historians agree it's complicated. In Paul Fussell's great essay Thank God for the Atom Bomb, a case is made on behalf of the millions saved by Truman's decision to end the war. Innovation in technology is often this: an incredible net good, but at some slighter, if clear cost we would often rather ignore. Typically, that cost is less obvious than actual life. Here, the morality is presented in starker, and more difficult terms. It's a conversation worth having.
I had a great time sitting down with Trae and Kmele for this one, and Trae was able to bring a lot of fascinating insight from his work in defense. There, the trend in weaponry is, for the first time in centuries, away from mass destruction, and toward precision. It's another difficult conversation for some, but a moral good, and a rare bright spot in hard tech innovation. Check out John Coogan's new documentary on Anduril, which we'll be talking about on the next pod:  
Godspeed, and stay away from sexy communists (Oppenheimer's greatest weakness, smh).
-Solana
---
Now for some space
Agencies crank up the thrust on DRACO. NASA and DARPA have announced a faster timeline for DRACO ("Demonstration Rocket for Agile Cislunar Operations"), a nuclear propulsion concept that could produce a huge step forward for in-space travel. Now targeting a 2027 test in space, the ultimate goal is to use DRACO to get to Mars and elsewhere in the solar system faster and with far more efficiency than chemical rockets allow. Space-based nuclear propulsion has a huge advantage over conventional chemical propulsion, primarily because it requires far less fuel mass, and provides higher specific impulse and the ability for continuous as opposed to 'bursting' thrust over long time durations. Once a conventional rocket (Falcon 9 or Vulcan) launches to an altitude between 434 and 1,242 miles up (700 and 2,000 km), NASA will switch on the nuclear reactor aboard. LFG NASA and DARPA (and Lockheed and BWX Technologies, who are also attached to this mission). (Space.com) (Ars Technica)
Speaking of Einstein. Researchers recently confirmed that a gravitational lens effect discovered in 2021 is an Einstein Cross, and the images are fascinating. An Einstein Cross is a special case of gravitational lensing — where a massive object like a galaxy cluster magnifies something behind it by bending the light with its massive gravity — and if everything is positioned just right, you get four 'duplicate' images spread out like an X. This particular Einstein Cross "shows a massive red foreground galaxy. Around it, four blue lights are arrayed; these are duplicated images of a more distant lensed galaxy." (Science Alert) (arXiv)
Cool comet. Comet watchers in Wales recently released pictures of a comet shaped like Star Wars' Millennium Falcon. It had looked like a normal comet, but then "something on its surface exploded" after astronomers noticed that it suddenly got 100 times brighter(!). Named 12P/Pons-Brooks, the comet is actually known for exploding (??), likely due to the presence of active 'ice volcanoes' whose "'magma' is a cold mixture of liquid hydrocarbons and dissolved gasses, all trapped beneath a surface which has the consistency of wax," which "explode when sunlight opens a fissure." 12P's orbit makes it visible to Earthlings every 71 years, and we've recorded seven of its bursts since the Frenchman Pons discovered it in 1812. We should be able see it again, here from Earth's surface, around April 2024. (Comet Chasers h/t Spaceweather.com)
"Made on the moon." Why spend a bunch of time and energy getting stuff from Earth to the moon via Starship, when you can just make that stuff with other stuff that's already on the moon? On Tuesday, NASA announced that it will award Bezos' Blue Origin with nearly $35m to do just that — specifically, to develop the technology to create solar cells from lunar materials.
We basically already know how to do that, fortunately. The moon's 'soil', known as regolith, can be melted to separate oxygen from silicon, iron, and aluminum, and the silicon can be used to produce solar cells. And conveniently, Blue Origin demonstrated it could do exactly this with artificial regolith in February of last year; from its blog: "Our process purifies silicon to more than 99.999%. This level of purity is required to make efficient solar cells." (Clean Technica) (Space News)
JWST discovers water vapor 370 light-years away. In the terrestrial region of the planetary system PDS 70, JWST just showed that "a water reservoir is available for terrestrial planets that might be coalescing there." "We've seen water [elsewhere in planetary systems], but not so close [to the star], and in a system where planets are currently assembling… [it's] is extremely exciting, as it probes the region where rocky planets similar to Earth typically form," said co-authors of the paper. Where could water vapor have come from, you might ask? The researchers have two possibilities in mind: it was formed in place, as hydrogen and oxygen atoms combined, or ice-coated dust particles somehow traveled from further away where temperatures are cooler, and were sublimated into vapor when they reached the terrestrial region. (NASA.gov)
Volcanic Venus. New research suggests that early in its collision history, Venus got hit by stuff coming in at way higher velocities than Earth ever did, therefore creating "a superheated core that promoted extended volcanism." Astronomers were wondering about this because Venus doesn't have tectonic plates, but has 60x more volcanoes than us (80,000, the most for a planet in our solar system), and tectonic plate activity on our planet is what promotes volcanism here. "Higher impact velocities melt more silicate, [and melted] as much as 82% of Venus' mantle," said co-author Dr. Raluca Rufu. From the press release: "Venus is closer to the Sun and moves faster around it, energizing impact conditions." (Southwest Research Institute ht Orbital Index)
More: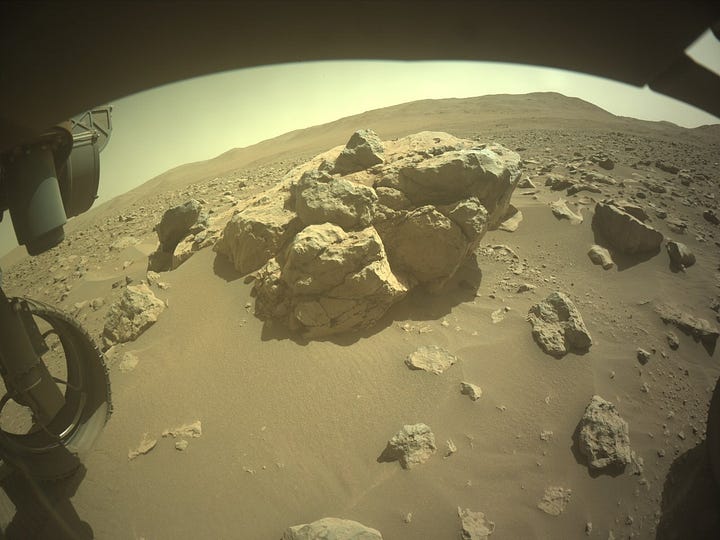 ---
The White Pill Investment Index tracks investments in companies developing interesting, exciting, forward-thinking products. For last week's deals, check out last week's White Pill. Deals are sourced from Pitchbook.
Top Deals
More notable investments
---
Energy, Engineering, Computing
What's all this about room-temperature superconductors, now? Quickly, let's start from the beginning. Superconductivity is a quantum mechanical phenomenon where a material, at a certain low temperature, can conduct electric current with zero electrical resistance. In a normal conductor, such as copper or silver, electrical resistance makes it so that some energy is lost as heat when current is passed through. But in a superconductor, this doesn't occur; electrical energy can be transferred between two points with no loss of energy. The problem with today's superconductors, though, is that they have to be cooled to under -300°F (at least), a prohibitively restrictive factor at scale.
That's why the discovery of a room-temperature superconductor, a material that can conduct electricity without resistance at room temperature and ambient pressure, would be an enormous breakthrough. At scale, this superconductor could dramatically improve the efficiency of power grids and virtually any device or system that uses electricity, revolutionize quantum computing, in which qubits — the fundamental units of quantum information — are formed by pairs of superconducting materials, and much, much more.
This week, a team of South Korean scientists went viral when they announced that, "for the first time in the world, we succeeded in synthesizing the room-temperature superconductor" that "maintains and exhibits superconductivity at room temperatures and ambient pressure." But keep a lid on your excitement: the team's papers are just preprints, opinions on this are all over the place (at least on Twitter), and as of Friday, no one has yet to replicate the superconductor. These are extraordinary claims, so we'll need to see some extraordinary evidence before going nuts about them. (arXiv)
Some links to catch you up:
Ok, moving on…
---
Medicine
Progress on cancer. T-cells are part of your body's immune system, and among other things, defend against cancer. But they were thought to only target a single cancer protein at a time. A recent discovery by a Denmark-UK team has found that some cancer survivors produce a "superior T-cell" capable of identifying multiple cancer proteins simultaneously, resulting in a far more vigorous attack. More research needs to be done, but this could lead to big improvements in cancer treatment for a lot of people. (Interesting Engineering)
---
Fun stuff
---
Reader, NEVER forget to touch grass — especially this weekend.
-Brandon Gorrell