Discover more from The White Pill
excellent developments in technology, engineering, physics, space, and more
Over 27,000 subscribers
Forging the Future
white pill #15 // 'oumuamua wasn't shaped like a cigar, astonishing fossil shows mammal attacking dinosaur, researchers say they found a meteorite that originated on earth, and more
Reader, I'm here to tell you that we have the most fun, thrilling, excellent White Pill for you yet (how do these just keep getting better and better?). In our 15th edition of the world's most evocative and mind-bending newsletter covering space, energy, engineering, medicine, and tech, it's great news all the way down. In our Excellent News section, we have a commercial-scale geothermal energy breakthrough. In our section on space, the Hubble captures boulders escaping the surface of an asteroid we smashed a spacecraft into, and a study argues for an evocative and lonely theory on rogue planets, among a bunch of other items. We have Cybertruck updates, CRISPR forests, and more in our Engineering and Computing section, and in the Medicine section, developments in MRI tech and brittle diabetes, among others. As always, fun stuff at the end, and the White Pill Investment Index in the middle.
Love you guys — enjoy.
---
First, some most excellent news
Significant geothermal development. Geothermal energy startup Fervo Energy just finished a 30-day commercial-scale pilot in northern Nevada which generated enough energy to power over 2,500 homes (3.5 megawatts) using an "enhanced geothermal system" (EGS). This could dramatically expand our ability to harness geothermal. In short, EGS technology can penetrate into parts of the earth's crust that have — up until now — been inaccessible. "Any place that you wanted to drill… you could find temperatures high enough for what you want to do," said Joseph Moore of the Department of Energy's Frontier Observatory for Research in Geothermal Energy (FORGE) project. Excellent news. (Bloomberg)
---
Space
Rogue planets. After the discovery of a second rogue planet, a new study argues that they're "six times more abundant than worlds that orbit stars in our galaxy." This theory will be tested by the Roman Space Telescope when it launches in 2027. From lead author Takahiro Sumi: "We estimate that our galaxy is home to 20 times more rogue planets than stars — trillions of worlds wandering alone." Though untethered to any star, it's possible for rogue planets to be 'warm' and even retain an atmosphere if still geologically active. Regardless, sure does sound lonely out there. (Phys.org)
Space is f**ing metal. The CHEOPS telescope recently found a gaseous Neptune-sized planet, dubbed LTT9779 b, with shining clouds of metal and glass and complete with titanium rain. It's "super metal-rich atmosphere" actually makes it the most reflective planet discovered, unseating Venus for that honor. LTT9779 b "can form metallic clouds despite being so hot because the atmosphere is oversaturated with silicate and metal vapours… Imagine a burning world, close to its star, with heavy clouds of metals floating aloft, raining down titanium droplets," explain the paper's co-authors. (FutureTimeline)
Escape from Dimorphos. The Hubble Space Telescope captured an image (above) of the asteroid Dimorphos that shows 37 boulders that range from between three and 22 feet across 'escaping' its surface after NASA slammed its half-ton craft Double Asteroid Redirection Test (DART) into it in an attempt to change its trajectory in September 2022 (they were successful). From the Thursday press release:
[The boulders] are drifting away from the asteroid at little more than a half-mile per hour… [they were] most likely not shattered pieces [of the asteroid but] already scattered across the asteroid's surface… It's not clear how the boulders were lifted off the asteroid's surface. They could be part of an ejecta plume… [or] a seismic wave from the impact may have rattled through the asteroid — like hitting a bell with a hammer — shaking lose the surface rubble.
"The boulders could have been excavated from a circle of about 160 feet across (the width of a football field) on the surface of Dimorphos," said David Jewitt of UCLA. The ESA will send its Hera spacecraft to investigate the crash site in late 2026. (Hubblesite h/t @ThePlanetaryGuy)
Um, what? A geophysicist recently presented his team's findings about a meteorite, pictured directly above, found in Northwest Africa in 2018. Namely, his claim is that the space rock is from Earth. While some are skeptical — "when you're claiming extraordinary hypotheses, you need extraordinary evidence to back it up. I am still unconvinced," a planetary scientist told Science Alert — the suggestion is that a terrestrial rock made it into space via an asteroid impact, or shot into space from a volcano, floated around for a while, and then touched back down in Africa. Wow if true. (Science Alert)
---
The White Pill Investment Index tracks investments in companies developing interesting, exciting, forward-thinking products. For last week's deals, check out last week's White Pill.
---
Don't miss Owen Lewis' recent White Pill feature article –
---
Engineering and Computing
CRISPR forest management. North Carolina-based researchers used a machine learning model to identify CRISPR gene editing strategies for, essentially, making trees 'pulp-ier' (easier to make into pulp). They were quite successful in their effort, growing gene-edited trees that were up to 50 percent more 'pulp-able' on one vector, and 200 percent more on another. At this point it may be obvious that I'm vastly oversimplifying the effect they achieved here, but ultimately the result means less energy spent for the same or more tree fiber (paper, diapers, cardboard, packaging, etc etc). It's good. (SciTechDaily)
---
Medicine
Alzheimers progress. From MedicalXpress: "Researchers analyzed 4,800-plus proteins in the blood of more than 10,000 middle-aged people (aged 45-65) over 25 years [and] identified 32 proteins linked to the risk for dementia later in life." Identifying "certain markers in the blood [which may] occur 10 to 20 years before the start of symptoms [could] help doctors determine who is at high risk for dementia." From the Multimodal Imaging of Neurodegenerative Disease Unit at the U.S. National Institute on Aging, you can find the new paper in Science Translational Medicine.
MRI progress. Last Friday, Scientists at the University Medical Center Freiburg announced that they made significant advances in MRI technology after developing a way to "significantly enhance visibility" of MRI scans. "This plays an important role in personalized cancer diagnostics, among other applications." (MedicalXpress)
---
Fun stuff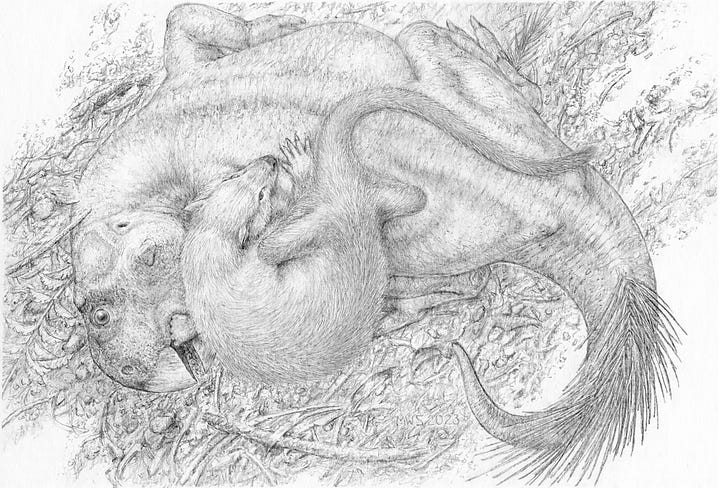 New fossil discovery literally shows a mammal eating a dinosaur before getting 'entombed' in lava?? A paper published in Scientific Reports on Tuesday reveals an astonishing fossil that was formed when a volcanic debris flow interrupted what appears to be a large predatory rodent-like mammal trying to kill a dinosaur larger than it. From the paper: "Mesozoic mammals are usually depicted as having lived in the shadows of their larger dinosaurian contemporaries, but this new fossil convincingly demonstrates that mammals could pose a threat even to near fully-grown dinosaurs." Suffice to say, nature is f**ing metal. (Nature)
---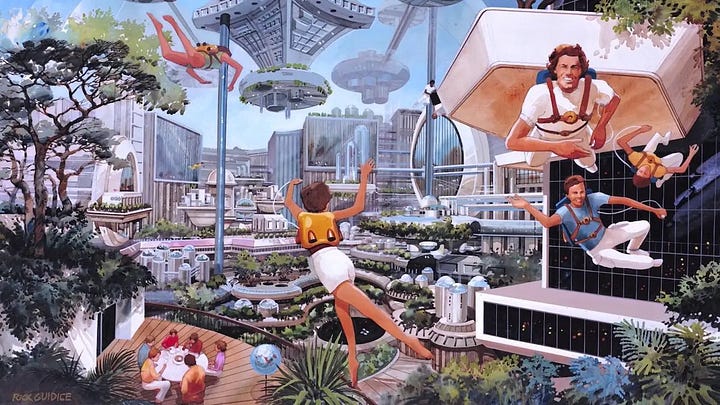 Touch grass this weekend.
-Brandon Gorrell
---
Read previous editions of the White Pill —
---
---