Discover more from The White Pill
excellent developments in technology, engineering, physics, space, and more
Over 27,000 subscribers
Did We Just Discover Microbial Alien Life?
white pill #23 // possibilities of exoplanet K2-18, 3d printing human tissue (in space), mothballed michigan nuclear plant to re-open, cognitive longevity, and more
Hey reader, welcome to the 23rd White Pill. This issue features a beachy new exoplanet that maybe (just maybe) harbors microbial alien life, Starship launch #2 updates, a Japanese lunar excursion vehicle the size of a tennis ball, a development in US nuclear that I know you'll love, the new (potentially) biggest lithium deposit ever found, holoprojectors, heartwarming ChatGPT news, fun stuff at the end, and much much more.
Oh, please don't forget — the White Pill has a X/Twitter account now, follow it for snackable science, energy, engineering, and space in your feed, and RT if you are so inclined.
PS last week we teased an interview with Robert Zubrin, founder of the Mars Society. That's still coming! Next week.
---
Space
Life on K2-18? Using the James Webb Space Telescope, astronomers have detected carbon dioxide and methane in the atmosphere of a world in the habitable zone of its star. "This is the first time that carbon-based molecules have been discovered in the atmosphere of an exoplanet in the habitable zone."
K2-18 b is 8.6 times the mass of Earth, but only two and a half times its radius, and it has about 30 percent more gravity. It's thought to be a Hycean world, meaning a hydrogen rich atmosphere with a water ocean below. While there's no analog to Hycean planets in our own Solar System, worlds around this size are actually the most common exoplanet type we've discovered so far.
The really exciting news here is the possible detection of a molecule called dimethyl sulfide (DMS), which on Earth is only produced by life — mostly by phytoplankton in our oceans. (Also, DMS on earth contributes to the characteristic "beach smell," so, via the transitive property I think, K2-18 smells like the beach?) The detection of DMS isn't confirmed yet, and will require more observations, but if it turns out to be genuine this could be our first detection of alien (microbial) life. What a world. (Twitter/X) (NASA) (University of Cambridge)
Infant sun. JWST snapped a pic of an infant star that's just a few thousand years old, and may grow up one day to be much like our own sun. Currently he's just eight percent of our sun's mass; the cylindrical illuminations on each side of the protostar are forming from the shockwaves that occur when gas jets spewing out of the star — some at up to 60 miles (96 km) a second — collide with nearby gas and dust. Anyways, presumably this is what our sun looked like in the very beginning of its life, which (reminder) was 4.6 billion years ago. (NASA)
More: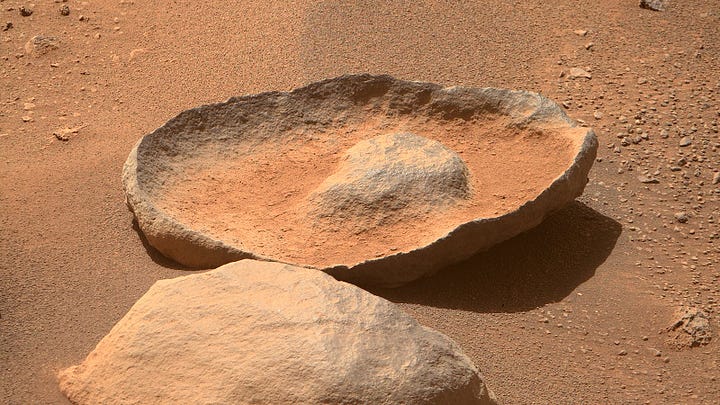 ---
The White Pill Investment Index tracks investments in companies developing interesting, exciting, forward-thinking products. For last week's deals, check out last week's White Pill. Deals are sourced from Pitchbook.
---
The White Pill is on
X/Twitter
. Follow us for excellent developments in tech, science, space, and medicine, and bonus content that doesn't make it into the weekly newsletter.
---
Energy
Mothballed Michigan nuclear plant will be the first ever US plant to reopen, contingent on a $1 billion loan from the Department of Energy. Tentatively good news for nuclear — after purchasing the shuttered Palisades Nuclear Plant, located in the southwest of the state on the shores of Lake Michigan, clean energy company Holtec signed a power purchase agreement (PPA) with Wolverine Power Cooperative, a not-for-profit energy provider to rural communities across Michigan. (A PPA is a legal contract between an electricity generator and a buyer that specifies the terms for the production and purchase of electricity, often from renewable sources.) If Holtec's loan is approved, it'll take them 18 months to reopen the plant and start delivering energy, two-thirds of which Wolverine has committed to buying. According to the contract, Holtec will also build two small modular reactors (SMRs) rated at 300 MWe each. The surrounding communities will, hopefully, benefit economically as well; from Holtec's press release:
During operation, 600 Michigan residents were employed full-time at Palisades in highly skilled jobs with an average salary of $117,000. The plant brought an additional 1,000 specialty workers into the local community every 18 months to support scheduled refueling and maintenance. During operation, Palisades paid more than $10 million in property taxes every year to support local schools, law enforcement, fire protection, parks, libraries, and other community resources, making it one of the largest taxpayers in Van Buren County.
(Axios)
New analysis suggests Nevada lithium site may be the world's biggest deposit. A paper published late last month in the journal Science Advances concludes that there are extremely high concentrations of lithium in the clay of a caldera located at Thacker Pass in northern Nevada, indicating that the site could produce between 20 to 40 million tons of the element, making it the biggest deposit in the world by far. This is good, though not necessarily huge news, as having a vast lithium resource is just one piece of the complex puzzle of battery manufacturing — China controls over half the world's lithium refining, a necessary step in battery production, and the US refines very little. (Royal Society of Chemistry)
---
Toy Box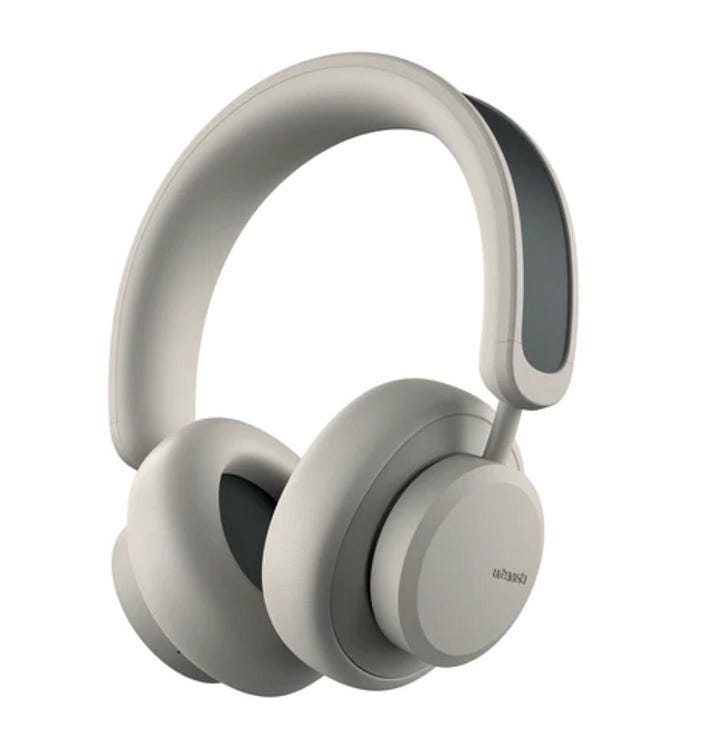 ---
Medicine
ChatGPT, MD. During the pandemic, the lives of a boy, Alex, and his mother, Courtney, took an ominous turn when Alex began to experience pain, then teeth grinding. Several visits to specialist doctors didn't resolve his issue, and Alex's symptoms only worsened, and became more baffling: he began to walk with a limp, couldn't sit cross-legged, stopped growing, and was constantly anxious and upset. After three years and 17 doctors, none of whom were able to help, Courtney uploaded all of Alex's medical information to GPT, which suggested a rare condition none of the doctors had: tethered cord syndrome, a neurological disorder in which the spinal cord becomes abnormally attached to the spinal column, limiting its movement and leading to a range of symptoms such as pain, muscle weakness, and bowel or bladder issues. Mom took the idea to a new doctor, who immediately confirmed the diagnosis. Alex received corrective surgery as a result, and is expected to make a full recovery. 🤗 (Today)
A new discovery could help our quest to live longer, healthier lives. A compound made by platelets called platelet factor 4 (PF4) has been identified as a cognitive enhancer, helping "old mice recover the sharpness of middle age and young mice get smarter." It's the previously unknown common denominator of improvements from young blood transfusions, exercise, and the longevity hormone klotho. PF4 works by reducing inflammation, which in the brain leads to greater plasticity (i.e., ability to learn new things), and better cognition. "We're taking 22-month-old mice, equivalent to a human in their 70s, and PF4 is bringing them back to function close to their late 30s, early 40s." (SciTechDaily)
---
Finally, the fun stuff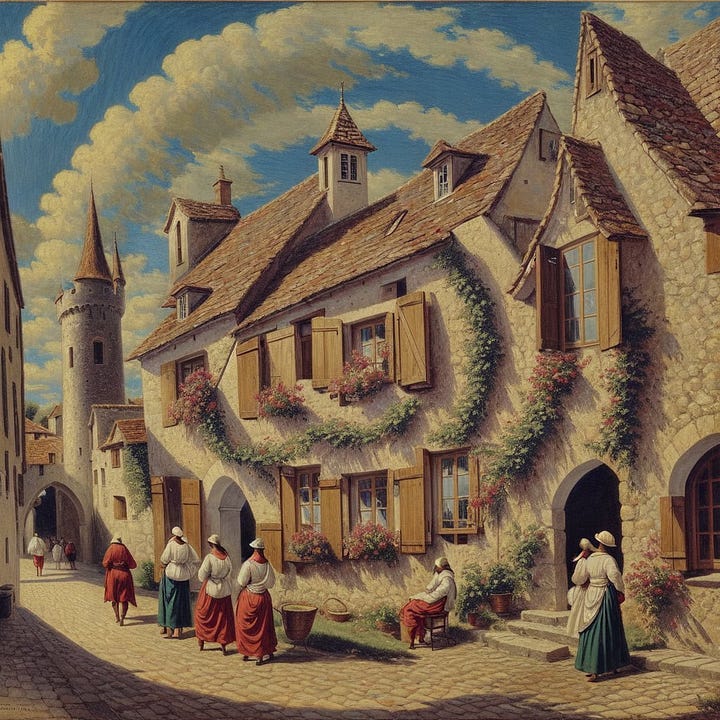 These images created with AI art generator Stable Diffusion went viral this week, originally on the Stable Diffusion subreddit. The arist behind them (and the top two above) is @MrUgleh, who has a sparse presence on X, though he's taken the time to make his opinion on NFTs clear. Escher-like, the work seems to represent a completely new style of art, and it's spawned a lot of copycat activity (a great set here) in the subreddit.
I had no idea "barn raising" is meant literally. Watch this video.
---
Everyone, touch grass this weekend.
-Brandon Gorrell